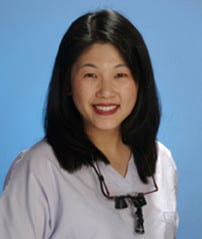 Dr. Wong was born and raised in San Francisco, California. She attended Lowell High School and went on to receive her Bachelor of Science in Psychology from the University of California, Davis. In 1998, she graduated from the University of California, San Francisco (UCSF) with a Bachelor in Dental Science and a Doctorate in Dental Surgery (DDS). She worked as an associate for several years before deciding to start her own practice.
Dr. Wong's passion for dentistry evolved from her love of art, science, and people. Her chosen profession as a dentist is a perfect fit because dentistry is based on science but many procedures, especially those pertaining to cosmetic and restorative dentistry, require both a keen eye and an artistic touch. Coupled with the opportunity to work with and help people, Dr. Wong can honestly say that she truly enjoys her job!
She is committed to perpetual improvement of her clinical skills by frequently consulting with peers, seeking continuing education on a regular basis, and subscribing to the latest industry journals. Dr. Wong also keeps abreast of the latest dental technologies because she is an ardent believer that technology combined with superior clinical skills is essential in modern dental care. She is an active member of the American Dental Association (ADA), California Dental Association (CDA), and the San Francisco Dental Society.
Beyond dentistry, Dr. Wong loves traveling, jazz music, swing dancing, and most importantly spending time with family and friends. She has traveled extensively throughout the United States, Asia, and Europe. Her latest adventures were ocean cruises in the Caribbean and Alaska. For relaxation, she listens to jazz music (her favorite artist is Diana Krall) or participates in a swing dancing class.
Lowell High School
University of California Davis
- Bachelor of Science: Psychology
University of California San Francisco (UCSF)
- Bachelor in Dental Science
- Doctorate in Dental Surgery (DDS)
American Dental Association (ADA)
California Dental Association (CDA)
San Francisco Dental Society
Our philosophy is based on personalized and conservative dentistry supported by dental health education. Our goal is to preserve natural teeth, avoid frivolous treatments, and prevent dental health problems from occurring through proper education. In the event treatment is necessary, we will recommend the least invasive procedure(s) to remedy dental health problems.
We will always provide a honest dental health assessment and thoroughly explain treatment plans, procedures, and/or options along with the risks if a particular problem is left untreated or allowed to progress. Our patients will always be fully informed, never "pressured" into any treatment, and in control of their options.
We believe technology is an asset to modern dental care and will continuously research new dental equipment and products. The maturity and benefits of new technology are carefully evaluated prior to use in our office. We try our best to avoid fads and will never subject our patients to unproven equipment, materials, or techniques. Our patients will always receive treatment based on sound principles and long-term study.