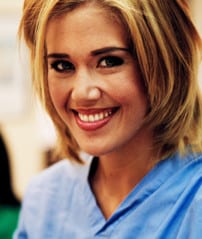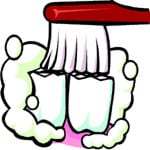 Preventive dentistry focuses on the preservation of your natural teeth. It involves an examination to check your teeth and gums. We also screen for signs of oral cancer. Periodic cleanings, fluoride treatments, and dental sealants contribute to the overall health of your natural teeth.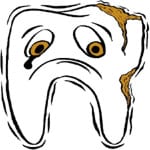 Restorative and Cosmetic Dentistry
Restorative and cosmetic dentistry involves the restoration of natural teeth that have been damaged, decayed, chipped, malformed, or lost. Dependent on the extent of restoration required, procedures include amalgam or composite fillings, gold or porcelain crowns, bridges, veneers, or implants.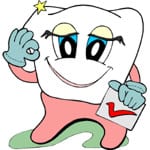 Periodontics involves the treatment of gum tissue and bone that support the teeth. Treatment includes deep gum cleaning (scaling and root planing), placing medication such as Arestin®  in gum pockets, and/or taking Periostat®, an oral antibiotic medication.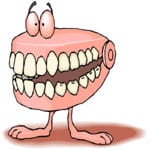 Prosthodontics deals with the replacement of missing teeth and other oral structures through the use of bridges, full and partial dentures, or implants.
We Look Forward To Meeting You
Thank you for giving us the opportunity to be your dental health-care provider. We promise to work hard to ensure your first visit is the prelude to a mutually trusting and long relationship. At your first visit, our goal is to make you as comfortable as possible, to provide you with an honest assessment of your dental health, and to help you understand any treatment you require.
How To Prepare
Quality dental care requires a team effort. We understand your first visit to a new dentist can be stressful. The following are a few suggestions to help you relax and to help us maximize Dr. Wong's time to address your dental health needs.
Schedule your first appointment on a date and time when you'll be most relaxed.
Complete your new patient information form prior to your appointment. Bring this form along with your dental insurance card (if applicable) and present it to our front office staff.
Arrive a few minutes early to your appointment.
What To Expect
The following is a summary of what to expect as a new patient to our office. Your first visit should take approximately 1.5 hours.
Upon arrival, you'll be greeted by our friendly front office staff. After we process your patient information, you'll be escorted into one of our private operators.
Dr. Wong will greet you and listen to your dental health needs, concerns, and expectations. The dental examination will only begin after all your questions have been answered and you are completely comfortable with proceeding.
We will take required x-rays. We offer digital x-rays with instantaneous results at 90% less radiation than traditional radiography systems.
Dr. Wong will perform a comprehensive dental examination. This involves a screening for oral cancer, a tooth-by-tooth charting to identify and record the current condition of your teeth, and periodontal charting to assess the condition of your gums.
We will provide you with an honest dental health report based on your x-rays and dental examination. If needed, Dr. Wong will use an intraoral camera to provide you with a video tour of problem areas. She will then outline the procedures required to address your dental health and discuss any alternatives and/or options.
Dr. Wong will perform a comprehensive general cleaning on your teeth.
If additional treatment is required, you will be presented with a treatment plan and an estimate. We'll schedule your next appointment for preventive care or for a respective procedure from your treatment plan.
Dental Insurance Plans We Accept
We accept all dental insurance plans that allow you to select a dentist of your choice. Most traditional indemnity and PPO dental insurance plans allow you this freedom. Our office participates in several popular PPO dental plans. We do not accept HMO, Medicare, or Medicaid dental insurance coverage at this time. If you are interested in becoming a patient and wondering if we can work with your dental insurance, please don't hesitate to contact us.
How Our Office Helps With Your Dental Insurance
We understand that dental insurance can be confusing. We will assist you with your dental insurance by contacting the insurance company to obtain benefits and coverage information. In most instances, we will require your social security number, date of birth, and employer name to perform this courtesy. At your first visit, we will do our best to provide a summary of your benefits and answer any questions you may have.
We will also help you process your insurance claims as an extended courtesy. Please note that some insurance companies will not allow us to process claims on your behalf. In such cases, we will assist you through the process to the best of our ability.
If insurance does not pay within ninety (90) days, our office reserves the right to request payment in full for services rendered from you and let you collect the insurance funds that are due to you. This rarely occurs, but it's important that you recognize dental insurance is a contract between you and your insurance company. Patricia M. Wong, DDS is not and cannot be part of this legal contract. Ultimately, you are responsible for all charges incurred for dental care services rendered.
Facts About Dental Insurance
Unlike medical disease, which can be both unpredictable and catastrophic, most dental ailments are preventable. With regular visits to the dentist, problems can be diagnosed early and treated. That keeps the costs of dental care much lower than those of medical care.
Medical insurance is designed primarily to cover the costs of diagnosing, treating, and curing serious illnesses. Dental insurance works differently. Most dental coverage is designed to ensure that the patient receives regular preventive care.
Because most dental disease is preventable, dental benefits plans are structured to encourage patients to get the regular, routine care so vital to preventing and diagnosing the onset of serious disease. In fact, most dental benefits plans require patients to assume a greater portion of the costs for treatment of dental disease than for preventive procedures.
The following are facts about dental insurance.
Your insurance plan is a contract between your employer and the insurance company. All patients are financially responsible for their accounts. The insurance company is responsible for the patient. Specific questions should be directed to your insurance carrier or your employer.
No insurance plan covers all dental expenses. Some companies pay fixed allowances for certain procedures and others pay a percentage of the charge. It is the patient's responsibility to pay any deductible amount, co-payment, or any other balance not paid for by their insurance company.
The benefits the patient receives is determined by how much the employer pays for the plan. The less expensive the plan, the fewer the benefits.
Payment Policy For Dental Care Services
We expect payment in full at time of service for any charges not covered by insurance.
Payment Methods Accepted
Cash or Personal Check
Credit Card: Visa®, MasterCard®, Discover®
Courtesy Discounts
15% Senior Discount: We are committed to contributing back to the community, especially to our seniors. For patients 65 years and older, a 15% courtesy is extended and will be automatically applied to your balance for dental care services rendered. This courtesy does not apply to insurance deductibles.